02/24/10
Always expect the Spanish Inquisition
By Cato the Elder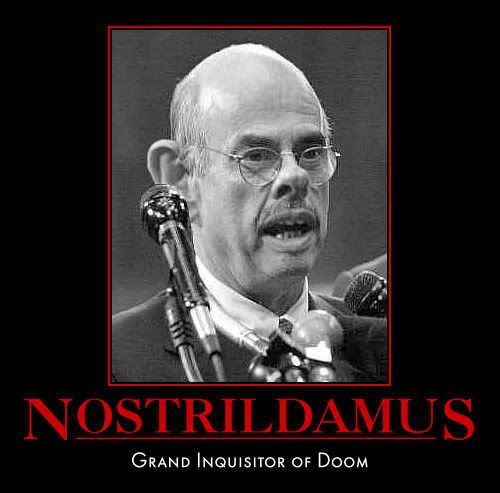 Not that anyone actually watches these things, but it's been interesting to see the kabuki dance in King Henry's kangaroo court over the past couple of days.

In case you missed it, various Toyota executives were "invited" to testify before the Gub'ment Motors Board of Directors House Energy and Commerce Committee this week about anecdotal reports surrounding unintended acceleration and other quality control issues.  Mark Tapscott at the Washington Examiner correctly points out:

There are 25 Democrats on the House Committee on Oversight and Government Reform, 12 of whom have received campaign contributions of as much as $10,000 towards their 2010 re-election campaigns from the United Auto Workers union, which is a co-owner of General Motors, Toyota's main rival for U.S. sales.



Among the dozen recipients of UAW money are: Representatives Elijah Cummings of Maryland ($1,000), John F. Tierney of Massachusetts ($1,000), William Clay, Jr. of Missouri ($1,000), Gerry Connolly of Virginia ($3,000), Michael Quigley of Illinois ($10,000), Patrick Kennedy of Rhode Island ($1,000), Danny Davis of Illinois ($1,000), Chris Van Hollen of Maryland ($1,000), Paul Hodes of New Hampshire ($2,500), Chris Murphy of Connecticut ($5,000), Peter Welch of Vermont ($1,000), and Judy Chu of California ($500).

Not one of those Democrats recused themselves from the hearing, by the way. But wait, it gets better.  Karl over at HotAir notes that the phantom acceleration theory's main proponent is a fellow by the name of Sean Kane.  To wit:
Two weeks ago, his firm released a 51-page report that alleged at least 2,262 Toyota and Lexus owners have reported sudden acceleration that resulted in 815 crashes, 341 injuries and 19 deaths since 1999. About half of the complaints involved vehicles not included in any current Toyota recalls, according to the report.


Toyota said it is unable to confirm Mr. Kane's numbers and has hired its own study firm.



Mr. Kane said his latest report wasn't produced as a direct result of funding from a particular lawsuit against Toyota. Yet lawyers often pay him a consulting fee to review individual crashes, listen to depositions, advise lawyers on questions and strategies, and produce analyses of crash trends using National Highway Traffic Safety Administration data. He does not receive a bonus or a percentage of any settlement in such cases, he said.


In the report released last week, Mr. Kane thanked a group of lawyers who have pending cases against Toyota for sponsoring some of his research into unintended acceleration in Toyotas. Three of those lawyers—Terrence McCartney of New York; Donald Slavik of Milwaukee, Wis.; and R. Graham Esdale Jr. of Montgomery, Ala.—said Mr. Kane has helped on cases, including litigation against Toyota.

Got all that?  Ambulance chasers: check.  Career expert witnesses: check.  UAW goons: check.  Democrat Legislators bought and paid for with illegally diverted TARP money: check.  Give these guys some credit, they really know how to stack the deck.  (snark on) Still, I'm confident that Toyota will get a fair hearing and objective examination of the evidence because there are several things working in its favor, namely: 1.) Toyota doesn't hire UAW workers 2.) Toyota's US manufacturing base is concentrated in red states and 3.) Gub'ment Motors is a slush fund for the Democratic re-election campaigns. (snark off)

Pay no attention to the fact that the Chevy Cobalt has over ten times the number of consumer complaints than the Corolla does.  For some reason  I don't think they're going to be subject to the same level of scrutiny.
H/T Karl, Mark Tapscott
---